Toward a Science of Consciousness: Tucson III
Post-quantum computing and computer consciousness are the subjects of a biannual research conference.
Will consciousness arise if you put enough quantum physicists, neurosurgeons, parapsychologists, philosophers, neurophysiologists, and artificial-intelligence (AI) researchers together in one place for a week and turn up the heat? That's the question put to the test every two years at the "Toward a Science of Consciousness" conference, sponsored by the University of Arizona.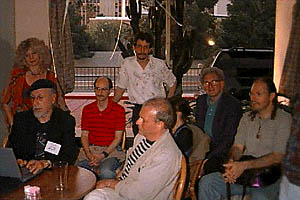 A working session of Jack Sarfatti (far left)
with Dick Bierman, Dean Radin, Russell Targ,
and Erick Von Schweber (far right).